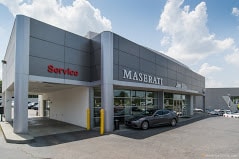 Why Atlanta Drivers Choose to Buy from Jim Ellis Maserati
How did the Maserati experience begin? In 1947, when the idea of installing a racing engine in a roadgoing car gave birth to the famed Maserati A6 1500 GT Prinifarina. Ever since, Maserati has led the world in the construction of cars with unmistakable class and thrilling performance−exciting to drive, with a comfortable interior and with an eye toward safety. Where does your Maserati experience begin? Right here at Jim Ellis Maserati. We know automotive connoisseurs from Atlanta, Alpharetta, Marietta, Duluth, GA and Roswell who relish all things Maserati aren't interested in a run-of-the-mill car. So why would you settle for a run-of-the-mill luxury car dealership experience?
Right when you enter the door, you'll understand why Jim Ellis Maserati is the number one Maserati dealer in Georgia. With over twenty-five new Maserati vehicles on-site and over two-dozen pre-owned Maserati models for you to explore, Jim Ellis gives you access to the vehicles which regularly capture the hearts and minds of automotive critics and drivers alike.
Relax and enjoy your shopping experience thanks to our complimentary Wi-Fi network and ample supply of healthy snacks and gourmet blend coffees in our customer lounge. And when you've decided which Maserati model fits your criteria, a member of our staff will deliver it to your home or office for you.
But your comfort and satisfaction doesn't end there, because we strive to provide the best customer experience both before after the sale. In addition to a complimentary car wash to keep your Maserati looking great, we also offer complimentary loaner vehicles if our auto service team is working to maintain your vehicle's performance efficiency or making it uniquely yours by adding certified Maserati parts and accessories.
Visit Jim Ellis Maserati today to embrace the Maserati tradition for yourself, with the help of Georgia's experts in the impeccable class, unrivaled style and incredible performance that have made Maserati the automotive world's premier brand.