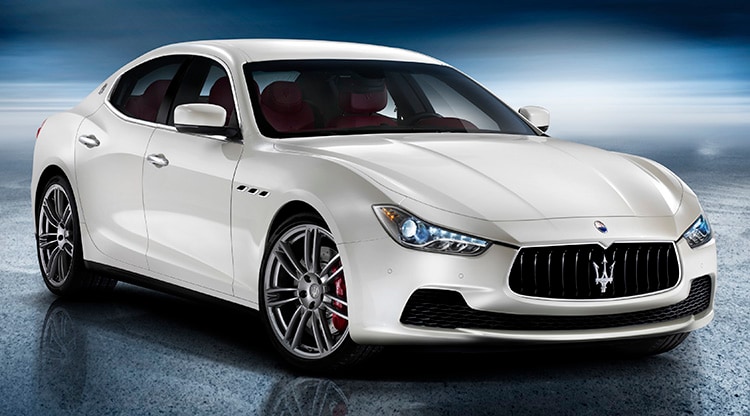 Showcase Your Racing Passion in a Maserati Ghibli in Atlanta
---
At Jim Ellis Maserati, we know drivers from Atlanta, Sandy Springs, Alpharetta, Marietta and Roswell appreciate the finer things. Opening the door of a new Maserati Ghibli is much like appreciating and evaluating a bottle of fine wine -its opulent materials and handcrafted interior speak to all the senses. But to truly experience the performance capability of the new Ghibli, you really must take a seat behind the wheel.
Found beneath each Ghibli's hood is an engine specifically designed to deliver the power you've never experienced before, thanks to its 330-horsepower, 3.0 L V6 Twin Turbo engine. You can also choose the Ghibli Diesel, which delivers sporty performance with an innovative 275-horsepower, 3.0 L V6 unit while also incorporating all the benefits of the very latest diesel engine technology.
Ghibli's interior isn't just a place for travel, but for quiet contemplation. The car's seating is designed in a wraparound form that underlines the car's sporty look while still delivering the highest levels of comfort. The soft leather used for the upholstery has a natural texturing that makes it particularly pleasant - even to the touch.
Through simple voice commands, without taking your eyes off the road, Ghibi's state-of-the-art center console possible to make a call or access music, messages, reminders, emails, websites - and much more - in eight different languages. It's just one of the ways the new Maserati Ghibli treasures the brand's historic performance heritage while casting an eye toward the future.
Interested in learning how the all-new Maserati Ghibli can transform your daily automotive experience? Visit Jim Ellis Maserati today to explore exceptional finance packages on it and our entire sprawling lineup of new and pre-owned Maserati luxury vehicles.